In Memory of Kenny Renz, Los Angeles County Fire Captain
KTVB 7's HERO: Local fire departments, friends, caregivers come together to honor fire captain's life and career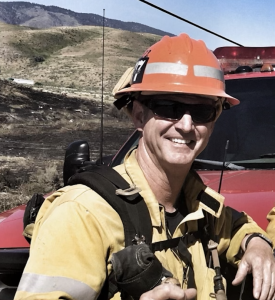 Former Fire Captain Ken Renz retired here in Idaho after a long career. Sadly, he was diagnosed with brain cancer. A special day to honor him was organized in Star.
STAR, Idaho — There was a really emotional ceremony in Star, Idaho last month for a former Southern California firefighter who retired here in our community.
Ken Renz and his wife Demi bought a home here to enjoy everything Idaho has to offer, and to live closer to their daughter who is a nurse at Saint Alphonsus. Sadly, their dreams of a long and happy retirement in Idaho were dashed, when Ken was diagnosed with glioblastoma, a deadly form of brain cancer.
Morgyn Rogers works for A Better Solution In Home Care in Boise, and her company had the honor of caring for Ken Renz. She really wanted to do something special for him in his final weeks.
"Glioblastoma is the top leading occupational cancer and is the top cause of deaths in firefighters. So, we wanted to bring some awareness to glioblastoma, and honestly, I just wanted to honor him," Rogers said.
Rogers put a plan in place to celebrate Ken Renz's life and career with the help of his friends and family, and our local fire departments.
It started with a final ride on a fire truck from the Star/Middleton Fire Departments. The truck drove him to his celebration, a first-class ride. That ride meant so much to Ken and his family.
Local firemen from several different agencies in our community lined a path to welcome him with applause.
Ken Renz's son Kody, who is also a fireman in Southern California, told us about how his dad landed in Idaho. His sister Delaney lives here, and Ken loved the great outdoors.
"He worked through the ranks all the way up to a captain," Kody Renz said. "He went through his career and retired in 2019, from Fire Station 77 in LA County. He decided that Star was the place they wanted to live, and found a house, and the rest is history."
Kody was so touched by the turnout for his dad. Friends, both new and old came to Star for this event, and people Ken didn't even know showed up too. That included many of our local firemen from all over the valley who wanted to be a part of this.
"So many people showed up, he hasn't seen some of them in twenty or even thirty years. I think he feels extremely appreciated and extremely thankful that he was able to see something like this with his own eyes. and realize how many people love and appreciate him and his service.," Kody said. "The firefighters from Star, Parma Meridian, Caldwell, Eagle. Thank you."
Rogers was so pleased with the turnout. It was what she was hoping would happen.
"We wanted to bring that community and that firemen brotherhood to Ken here in Idaho, and just show him how much support the Treasure Valley and can give him at a hard time in life." Rogers said.
Ken wasn't able to speak, so his wife Demi spoke to the crowd at the celebration representing them both.
"Thank you for coming, all of you people who came together from far and wide, and people who don't know us. Life is short, love is long. Thank you, we appreciate it so much," Demi Renz said.
Ken's daughter Delaney spoke as well.
"People that don't even know my dad and showed up for this. you are amazing," Delaney Renz said. "We love you all and we appreciate you and we thank you seriously from the bottom of our hearts thank you."
Ken's son Kody said the day was something they will always cherish as a family.
"Even though it's been such a hard sad terrible road with this cancer, we are extremely grateful for so much support." Kody said.
Sadly, we learned Ken Renz passed away last weekend. He died with his loving family right by his side here in Idaho. They are so grateful that they could celebrate that special day, and his final ride, with our community.
Captian Renz Passed away on April 29th, 2023
Here's a look at all the sponsors that helped make the day happen for Ken Renz.
Credit: A Better Solution In Home Care
These are the sponsors who helped make the celebration of Ken Lenz's life happen in Star, Idaho.